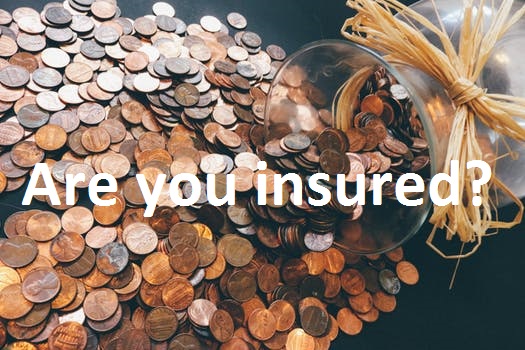 Wedding Insurance......Can you afford not to?
As a Professional Toastmaster and Event Planner, one of the key questions I ask my clients is whether they have taken out insurance for their Wedding; you may be surprised at the number of couples who say no. But consider this: you may well be spending in excess of £15,000 on your Wedding, so if the unthinkable were to happen and you had to cancel your wedding or something went wrong, would you lose all your money?
If you don't have Wedding insurance, the most likely answer is yes!
But before you go headlong into buying a policy for peace of mind, there are a few things to consider. In this article I'll cover some of the areas your insurance may cover as well as some bits that might catch you out and mean your insurer won't pay out in the event of a claim.
First off there are a couple of eligibility criteria that you will probably have to meet:
The main residence of one person in the future marriage or civil partnership will need to be in the UK

That same person must not have lived abroad for more than 6 months in the last 12 (Armed forces couples stationed abroad should speak directly with an insurance company about this)

That same person must be registered with a UK medical practice
Once you've ticked those boxes, what areas do you need to think about for Wedding insurance? Here are some of the key areas that a good policy will cover:
Cancellation
In the unfortunate event that you have to cancel your Wedding due to injury, illness or an unforseen circumstance happening to yourself, your fiancé or a member of your immediate family, the your insurance should pay out to prevent you from being left out of pocket.
Curtailment
Curtailment of your wedding is mainly connected with the ceremony itself and is defined by Wedinsure as:
"The cutting short of the wedding ceremony after it has commenced but before the moment that the contract of marriage or civil partnership has been created or, in the event of a ceremony that does not create a contract of marriage, before when at least 75%of the ceremony has been completed; or the cutting short of the wedding reception after it has commenced"
Bridal & Ceremonial attire
Generally this will cover the attire of the bride for a specific period prior to the wedding (perhaps a couple of months) and will finish at the end of the wedding. Ceremonial attire (bridesmaids, Groom, groomsmen etc) will generally be covered for a far shorter period, perhaps only 48hrs. If you have hired attire don't forget to include the period after the wedding to the point you return the hired items, especially if you have to get them cleaned before return or are planning to go straight on honeymoon!
Wedding Gifts
This part of a policy will generally cover for loss, theft or damage of wedding gifts whilst in transit to or on display at your wedding breakfast, as well as storage prior (for a specified period). Be aware of single item limits and maximum sums payable in respect of vouchers or cash.
If you wedding breakfast is on a different day to your ceremony, check that any gifts you might want to display will be covered, both in transit to the venue and on display.
Make sure any valuable items when in tarnsit or storage are locked away and/or secured out of sight. You are unlikely to have a successfull claim for gifts stolen form a car if they have been left on seat or parcel shelf.
Wedding Rings, Cake & Bridal Party Gifts
Your policy schedule will likely detail the amount to be paid in each case for loss, theft or damage to your wedding rings, your cake and those gifts that you have purchased for the Bridal party and other attendants. It should also tell you for how long before and after the wedding those items are covered for. If your having your wedding breakfast on a different date to that of your ceremony, be sure that your items are covered for both occasions.
Photography & Video
Every couple wants lasting memories of their day in either photographs, video or both and potentially you will have spent a lot of money on a photographer or videographer, so it's natural you'll want to safeguard against this. Wedding insurers can provide cover for:
Unforseen expenses which means photos may need to be retaken at a later date

Recovery of monies paid for photographs or videos in the event of:

Non-appearance of your photographer or videographer at parts of your wedding for which you have contracted them.

Loss, theft or damage to original film, negatives or digital media on which images are stored by the supplier.

Non-development of the original film, negatives or digital media (save for under or over exposure)
Be aware though that you are unlikely to be covered if you do not have a contract from your photographer or videographer, which in turn means you will not be covered if your photos are taken by a 'friend of the family'
Failure of Suppliers
This must be one of the biggest fears a couple will have on their special day, and whilst you can never be 100% sure that all your contracted suppliers will turn up; due diligence beforehand and the comfort of an insurance policy will at least give you some peace of mind. Again you will need to ensure you have a contract with your supplier and ensure you read your policy thoroughly to understand what's not covered. Broadly speaking your insurance should cover you for irrevocable amounts of money if a supplier goes bankrupt or into liquidation and also any additional costs involved in arranging alternative similar services. Be mindful that the sum paid to cover alternative suppliers may well be limited to that which you paid for the original one.
Personal Accident
Nobody wants to think of themselves having an accident on their Wedding Day, but accidents do happen and this is a section worth considering.
Legal Expenses
Check your policy to see if you have a legal expenses section. If the unthinkable happens and there is an accident, you'll want to know that your insurance company will take care of any leagal proceedings that may arise.
Personal Liability
This section of a policy covers you for claims made against you by a third parties or in the unfortunate event of your death, claims made against your personal representatives so long as they are acting in accordance with your policy. This section of a policy may have multiple exclusions so be sure to check them thoroughly.
Other useful sections
Here are some other sections that may be useful to have in a wedding insurance policy:
Essential documents - cover relating to weddings taking place outside the UK

Guest personal liability - similar to personal liability above but for any legal liability arising against your guests for third party injury to persons, damage to or accidental loss of property.

Marquee extension - cover relating to any loss, theft or damage in relation to a marquee.

Ceremonial swords - cover for loss, theft or damage to ceremonial swords used as part of your wedding; a useful consideration for military personnel.
The 'catch you out bit'
Always be mindful that with the majority if not all Wedding insurance providers any claim for theft must be reported to the Police within 24 hours and a crime number obtained; you may well be asked for this on your claim form.

As with any insurance policy, there will be an excess to pay so you'll need to weigh up the value of your items against the excess before deciding if it's worth making a claim.

Make sure you read the 'small print' and in particular the exclusions on any proposed policy before committing to give yourself reassurance that what you need it for is covered.
Wedding insurance is not required by every couple and you will have to weigh up the risk of something going wrong against the cost of the premium; but investigating what's out there is a must for every couple.