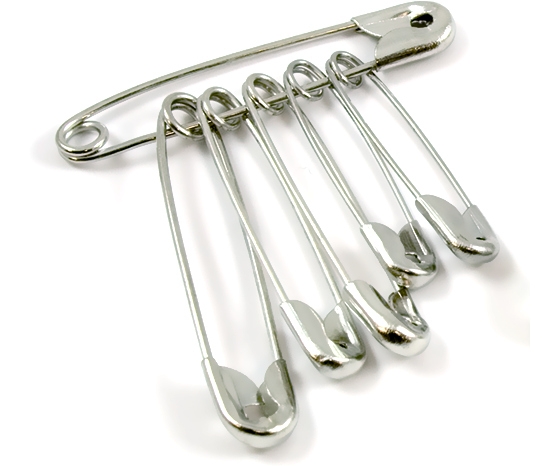 "Have you got any safety pins?"
That was the question I was asked, when I was Toastmaster at a wedding where a young lady had unfortunately split here dress.
"Yes of course" I replied and gave the lady enough safey pins for a couple of her friends help sort out this slight 'wardrobe malfunction'
Safety pins are just one part of a Toastmaster's emergency kit, which quite often will contain a Pandora's Box of items for most little emergencies. Plasters, dental floss, clear nail varnish, for those nasty mishaps with tights or stockings, mints, straws so you don't lose your lipstick on the glass, nail scissors, needle & thread, and pencil batteries for that 1 friend or relative who is using a digital camera, but who did check their batteries before they left home! are all items that a Professional Toastmaster & Master of Ceremonies will be able to lay their hands on as part of their service to the client.
Please be aware though that a Toastmaster should not offer headache tablets, paracetemol, hay fever remedies or any other medical pain killer as they cannot possibly know the affect that any medication might have on the person taking them.
I am, like many Toastmaster's are experienced event planner and coordinator and can help you with the planning of your event in so many ways other than introductions and annoucements.
A Toastmaster will more than likely have worked at many venues around where they live and further afield and each venue has it's own positives and negatives as well as challenges for prospective clients. As your Toastmaster & Master of Ceremonies I can help you make sense of these and help you with the questions you need to ask your venue and it's Wedding Coordinator or event manager.
For many couples organising something as big as their wedding can be a very daunting task, and whilst only you can (or should) decide who to invite, your Toastmaster can help you prioritise; what to book, when and the questions you should ask.
So if planning your wedding, social or corporate event fills you with dread, then a Toastmaster from itoast2you will help calm your nerves, put things in perspective and help you make sense of everything, not to mention giving your event that special sense of occasion; after all you don't want your event to be the same as everybody else's........do you??